Bergeron Rodeo Grounds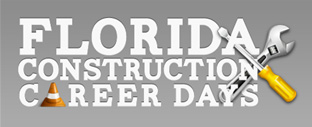 CPC Staff recently volunteered to help with the South Florida Construction Career Days Event located at Bergeron Fair Grounds. In order to increase the number workers in the construction industry, transportation industry officials began an educational outreach program for high school students in 1999. The program is called Construction Career Days.
As more people visit or relocate to the State of Florida, the need for qualified construction workers grows. Everything from roadways to homes and shopping centers are necessary to support the increasing population. The construction of each requires skilled workers, yet the numbers of those entering the field is dwindling.
The program is designed to introduce school students to the wide range of career opportunities available to them in the construction industry in a hands-on environment.
Partner agencies and organizations responsible for the event include the Florida Department of Transportation, the Florida Transportation Builders Association, the Suncoast Utility Contractors Association, the National Association of Women in Construction and the Federal Highway Administration.
with FTBA annual South Florida Construction Career Days.
Download CPC News Release