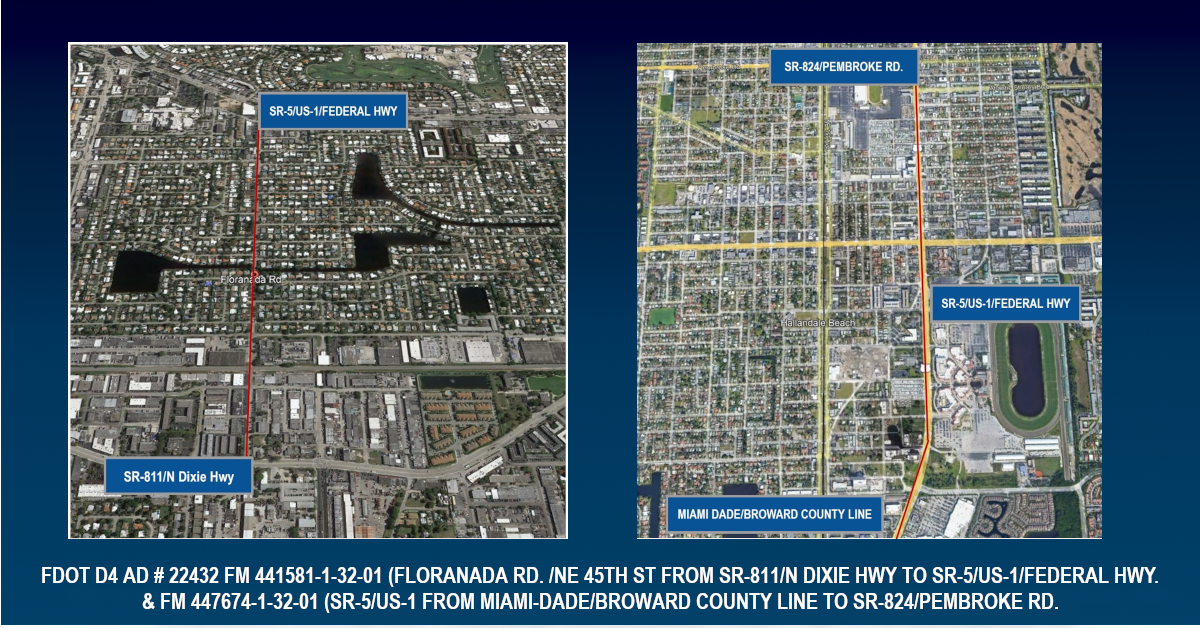 We are proud to announce that FDOT District 4 has selected CPC to perform two high-profile design projects in Broward County, Florida. Our Team is led by Dan Tintner, PE, Principal Engineer, and Mohan Gopalakrishna, PE, PTOE, Consultant Project Manager who has managed FDOT projects over the past three decades and Uri Aszodi, PE, MSEM with two decades of experience will serve as the Deputy Project Manager and the production lead.
The first project includes a Complete Streets & Localized Initiatives Project (CSLIP) along Floranada Road (from Dixie Hwy to SR 5/US 1), located within the Cities of Oakland Park & Fort Lauderdale. The improvements include harmonizing proposed sidewalks with existing business driveway and adjacent shopping plaza parking lots, correcting ADA deficiencies, drainage modifications/improvements, removing/restoring canopy landscaping, signing-pavement markings with RR Dynamic envelope, LED lighting and upgrading substandard pedestrian signalization, and safety improvements.
The second project includes 3R (Resurfacing, Restoration, and Rehabilitation) improvements along SR 5/US 1 (from Miami-Dade/Broward County line to SR 824/Pembroke Road), located within the Cities of Hollywood & Hallandale Beach. This project location is south of Aventura Hospital, Aventura Commons, and the Aventura Mall. The improvements include updating signalization, ADA improvements, access management at existing medians, landscaping, signing-pavement markings, LED lighting, and pedestrian signalization safety improvements.
We are excited and look forward to successfully working with FDOT, Broward MPO, and the local municipalities.